Your Giverny half-day trip - Monet's gardens
A tour not to be missed!
Located at 80km of Paris, Giverny is a very charming village. Claude Monet decided to move here in order to develop his passions: painting, gardening and photography. In 1966, the gardens and Monet's House were passed by his son Michel to the Academy of Arts. Nowadays, the property is restored as a museum where the main Monet's canvas are exhibited and the gardens are recreated.
❤

YOU WILL ENJOY...

TOUR OF GIVERNY AND MONET'S HOUSE

During the tour, you will see Monet's house restored as in the old days, the painter's workshop and stroll through the wonderful garden.

Inside Monet's house, where he lived from 1883 to 1926, you will discover:
The ground floor: the "blue lounge" (room for reading), the groceries, the workshop, the dining room with the famous collection of Japanese drawings on the wall, and the kitchen well decorated.
The first floor: the private apartments with Monet's bedroom (specific period furniture), Alice's bedroom and "toilettes". In front of the house, you will be charmed by the famous Monet's gardens which are majestic and represent one of the painter's greatest master pieces.
You will visit the house and gardens as you wish and our guide will give you all information needed to enjoy your visit. The Monet's house is generally opened from beginning of April to end of October.
Discover Giverny and Monet's gardens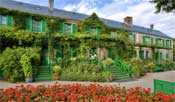 Classic excursion to Giverny : 59€ / pers
Day trip from Paris with an experienced guide (English, French, Spanish). Excellent way to visit this charming village on the borders of Ile de France and Normandy with limited time.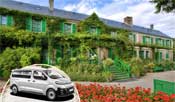 Excursion by minibus to Giverny : 72€ / pers
Half day tour with an experienced trilingual guide. You will be assured of travelling in an air-conditioned minibus, with the advantage of an optimised journey time to make the most of your visit.
GENERAL INFORMATIONS
Tours: from April to end October from our agency by bus or minibus
Departures:
• 8:30 a.m. - every day (agency return 1:00pm)
• 2:00 p.m. - every day (agency return 7:00pm)
Included: Entry ticket to the Monet's museum

Meeting Point
France Tourisme Agency - 6, rue de l'amiral de Coligny - 75001 Paris - Access map
Children rate
Special price for children -12 years old
Our offers can be customized for a group from 8 people and more - For more informations : Contact our Groups Department