DISCOVERING THE CASTLES IN THE HAUTS DE FRANCE REGION
Two very beautiful castles are offered to you during this escapade:
Departure from our Louvre agency in the heart of Paris at 8:30 am accompanied by our driver guide.
THE CASTLE OF CHANTILLY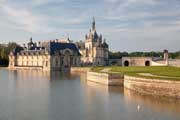 Famous for the receptions of the Grand Condé and for the services of Vatel, steward and organiser of great events in the 17th century, the Chantilly estate has a rich history dating back to the Middle Ages.
The Chantilly estate, located 1 hour from Paris, is home to an exceptional heritage. Guided tour of the château, its 115-hectare park designed by Le Nôtre, its large stables, a veritable palace for horses, as well as the private flats. The painting gallery contains the 2nd largest collection of ancient paintings after the Louvre...with works by Raphael ? Poussin, or Ingres.
AT LUNCHTIME
This atypical restaurant welcomes you in a vaulted cellar of the XIIth century where you will be able to taste and appreciate in all conviviality, its varied starters served at will (country terrine, rillettes and herring fillets), its tasty grilled meats, its delicious foie gras and its fish, gambas, scallops, grilled at your convenience...- see the menu
THE CASTLE OF PIERREFONDS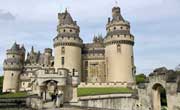 A castle reinvented. Built at the end of the 14th century by Duke Louis of Orléans, the castle was dismantled in the 17th century and was in a state of ruin when Napoleon III decided to entrust its reconstruction to the architect Eugène Viollet-le-Duc, who put his architectural concepts into practice to make it an ideal castle as it would have existed in the Middle Ages.
Return to our Louvre agency around 7.15pm.