❤ YOU WILL ENJOY...
Christmas Magic in Reims and Epernay from November 24th to December 24th, 2023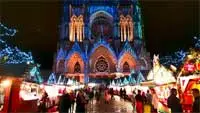 Come and discover the magic of Christmas at the Reims market and the decorations in Epernay during this festive season.
Our tour begins in the capital of the Champagne region, with a visit to Reims Cathedral and its famous Christmas market. Before lunch, we'll offer you a glass of champagne and a box of chocolates on the cathedral square to celebrate Christmas together.
Then we'll head off to Epernay, 1/2 hour from Reims, for a visit to one of the most prestigious wine cellars: Mercier (subject to availability).
You can then wander around this magnificent town, all decked out in Christmas colours.
PROGRAM OF YOUR DAY IN CHAMPAGNE
Departure from Paris to Reims, visit of Reims Cathedral commented by our guide.
Guided tour (only in English) of the "Martel" or "Mumm" cellars (subject to availability, Champagne tasting included
Following your visit to the cellars, you will have free time to enjoy and discover Reims
Visit of the production site of Champagne Roger Manceaux, tasting of 2 Champagnes on site
Returning to Paris, you will make a short stop to discover the charming village of Hautvillers
RHEIMS, CHAMPAGNE CAPITAL AND CEREMONIAL CITY
Capital of Champagne region, Reims is one of the most important historical cities of France and is well known for its famous and prestigious wine: Champagne.
Reims Cathedral:
Discover the Reims Cathedral, the city's most beautiful monument and one of the foremost achievements of the 13th century Gothic art. This masterpiece is the place where the kings of France were crowned.
CELLARS VISIT AND CHAMPAGNE TASTING
Cellar visit and Champagne tasting :
Proud of their traditions, Champagne producers will explain and share their knowledge on Champagne production, making and bottling. You will visit some incredible and old wine cellars and enjoy a delicious Champagne tasting.
According to openings and availabilities, you will visit the cellars of Martel or Mumm, two of the most famous houses of Champagne.
LUNCH IN RHEIMS
Our guides will be able to advise you and direct you to a large choice of restaurants.
TOUR OF THE ROGER MANCEAUX CHAMPAGNE EXPLOITATION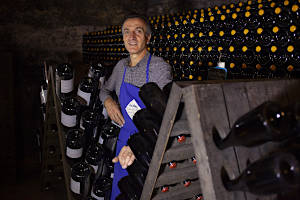 Discover the exploitation of Champagne Manceaux.
Champagne Manceaux is:
5 generations of enthusiasts, starting with Edmond, followed by René, then Roger, and today Patrick and his children
5 Villages of the Montagne de Reims: Rilly la montagne, Taissy, Trois-Puits and Villers-Allerand classified Premier Cru and Mailly-Champagne classified Grand Cru
3 grape varieties: mainly Pinot Noir, Chardonnay and Pinot Meunier
The operators will have the pleasure of welcoming you to make you discover, in all simplicity, the work of the vine and the wine during a visit to the family cellars.
The visit will be followed by a tasting of 2 glasses of champagne to choose from among all the cuvées. (Visit possible in English and French)
HAUTVILLERS VILLAGE
On the way back to Paris, we will make a stop in the charming village of Hautvillers, the tiny village place where the monk Dom Pérignon, discovered, during the 18th century, the method Champagne making.
*Alcohol abuse is dangerous for your health and must be taken with moderation.