The Venice of the North at Christmas time from December 1 to December 31, 2022: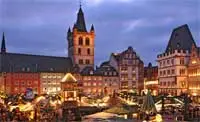 The center of Bruges is magical all year, but even more at Christmas time. With thousands of lights, the smell of waffles and mulled wine, the Christmas atmosphere is at its best!
There are two Christmas markets in Bruges. The most important one is on the Grote Markt, where there are many wooden chalets. In this square we offer you a glass of champagne and a box of chocolates.
The second market, only one hundred meters away, on Simon Stevin Square; with both sides roadside stalls located between trees with countless decorations. You can also admire a human-sized nativity scene here.
DISCOVER BRUGES "THE NORDERN VENISE"
Bruges is located in Belgium and is classified as World Heritage by UNESCO. The city of Bruges is well-known as "the little Venice of the North» because of its numerous canals which cross the city.
Bruges witnesses the Flemish Art through its historical center, numerous museums and tourist sites. During your pedestrian tour, you will explore "le Beffroi, la Grand-Place, la Basilique Saint-Sang, le Béguinage, ... " Another way to enjoy the charm of the city is taking the one hour cruise down the famous canals. During the winter, the cruise is replaced by a visit to the gothic style city hall.
You will also enjoy free time to stroll through the colorful lanes and tinny shops with typical specialties from Bruges such as lace, chocolates...
SEASON
Bruges is sublime whatever the season.
In winter, you will appreciate the calm of the city and the sweet scent of the winter breeze and hot chocolate.
In summer, you will stroll and admire the canals under the summer light while having a drink on a terrace with a tray of Belgium fries!
BRUGES AT LUNCHTIME

The city of Bruges offers many options where you can have lunch, especially some restaurant in the magnificent Grand Place. If you wish, we can also book France Tourisme menu for you in a restaurant with a unique view of the Grand Place.The Brasserie De Carré in Bruges is an establishment with a completely renovated interior. - See the menu
Discover Bruges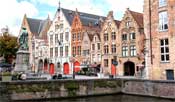 Classic excursion to Bruges (Belgium): 125€ / pers
Day trip from Paris with an experienced guide (English, French, Spanish). Excellent way to travel around the Flemish Region of Belgium in a limited time.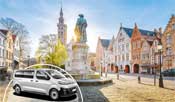 Excursion by minibus to Bruges (Belgium): 140€ / pers
Day trip with an experienced trilingual guide. You will be guaranteed to travel in an air-conditioned minibus, with the advantage of an optimised journey time to make the most of your visit.