YOUR CRUISE "LA PARISIENNE GOURMANDE"
Embarking from the Île de la Cité, in the most wonderful boat with terrace in Paris, you will be making the most original cruise of the city.
After leaving the Île de la Cité, you will sail towards the heart of the city to discover the most beautiful monuments and bridges of the incredible Paris illuminated. Our circuit will take you until the Liberty Statue located in the Grenelle Bridge, before making a U turn to see the Eiffel Tower sparkling its thousand lights, an amazing show that takes time every hour.
During the cruise, your guide with tell you the history of the city of lights, its beautiful bridges, making this romantic cruise an unforgettable experience.
OUR OFFERS INCLUDES :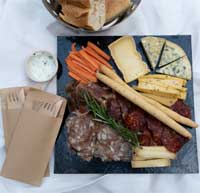 A 220g board of french charcuterie and cheeses made from fresh products and composed of :
- Foie Gras
- Country Ham
- Dry sausage
- Cherry tomatoes and pickles
- Ham
- Chèvredou
- Camembert fermier and Comté !fruité
- all accompanied by Charentes-Poitou PDO butter and a bread.
- 1 glass of wine !
But that's not all, you can also enjoy the great service of the bar and snacks on board.
YOU WILL DISCOVER DURING THE CRUISE
Paris City Hall - Le Louvre - Place de la Concorde - Pont Alexandre III - Eiffel Tower - Statue of Liberty - The museum of Orsay - Notre-Dame de Paris Cathedral - and many other wonders illuminated...
>>The bus stop is near the cruise boarding
PARIS BY NIGHT TOUR BY DOUBLE-DECKER BUS (approx 45mn)
Paris by night is just MAGIC!
Discover Paris, city of lights, and its most beautiful monuments. Paris is shining at nightfall. Every night, visit Paris by night by double-decker bus with open roof (or closed roof in winter) with individual audio guides (9 languages : French, English, Spanish, Italian, Russian, Japanese, Portuguese, German).
YOUR ITINERARY :
Notre Dame - Quays of the Seine - Les Invalides - Ecole Militaire - Tour Eiffel (stop photo) - Grand Palais / Petit Palais - Champs-Élysées - Arc de Triomphe
>> After the Paris Night Tour we drop you off at the Moulin Rouge
THE SHOW "FEERIE" AT THE MOULIN ROUGE :
Choreographed by Bill Goodson, "Féerie" consists of : a troupe of 100 artists, including the 60 Doriss Girls that were recruited world-wide ; 1000 costumes of feathers, rhinestones and sequins, designed by Corrado Collabucci, and set up in the most famous Parisian workshops (for example, 500 pairs of custom-made shoes of the size 36 to 47,...) ; sumptuous settings with shining colours and unique designs created by Gaetano Castelli and made by Italian artists ; the best international and outstanding acts ; and the expected return of the giant Aquarium... * all of that with music by Pierre Porte, using some 80 musicians and 60 members of the chorus.
"Féerie" ; 4 main scenes created to fulfill international audiences dreams !
Discover the Moulin Rouge