DISCOVERING THE "CHATEAUX DE LA LOIRE"
Visit the 3 breath-taking castles in this full day trip:
Departure from our Louvre agency in the heart of Paris at 7:15am followed by our driver guide.
THE CASTLE OF CHENONCEAU: open on 25/12 and 01/01 (31/12 closes at 5:30pm) -
Christmas decoration from 02/12 to 06/01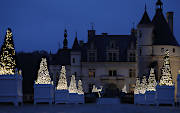 The unique know-how of the Atelier floral de Chenonceau and its MOF designer, Jean François Boucher, materializes this year in the art of hospitality and particularly for these holidays:
Forest table, with mosses, mushrooms and bouquets of foliage...
In the famous kitchens, an "all-chocolate" table and a table garnished with Panettone, the tasting of which is part of Christmas traditions.
Baroque table with huge chandeliers... It's the Venetian spirit that takes over the Grand Gallery on the water, in a castle so close to Serenissima Venice...
After this visit, you will join your guide in the sumptuous gardens of the castle.
Transfer to Cheverny Castle...
THE CASTLE OF CHEVERNY: open on 25/12 and 01/01 -
Christmas decoration from 09/12 to 15/01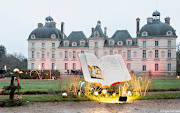 Christmas at the Château de Cheverny is more than a tradition: it has been an institution for nearly 30 years! Giant light decorations in the gardens, each room decorated with care in the castle, a candy forest in the Trophy room, an enchanted carriage...!
Not to mention the façade lit up in Christmas colors as soon as night falls!
FYI, Sunday, December 18 in the afternoon there will be the arrival of Father Christmas.
You will end your day by visiting the Château de Chambord
THE CASTLE OF CHAMBORD: closed on 01/01 and 25/12 (on 24/12 and 31/12 closes at 4pm) -
Christmas decoration from 01/12 to 07/01
At nightfall, that is to say a little before 5pm, the exterior lights will come on.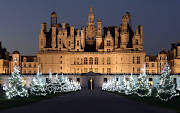 Chambord is adorned with a thousand lights!
For this new edition, the exterior paths are embellished with a hundred magnificent fir trees which light up as soon as night falls.
The interior is also dressed in majestic fir trees and decoration.
From the ground floor to the furnished apartments, passing through the entrance porch, the famous double spiral staircase and the chapel, the visit route is enhanced by the magic of Christmas.
Before leaving the Château, distribution of a glass of champagne and a box of chocolate in front of the illuminated château.
Return to our Louvre agency around 8pm-8:30pm