Come to discover the famous girl dancers of the Crazy Horse and the show "CRAZY LOVE WEEK" for Valentine's Day ! Our offer includes access ticket to the cabaret to attend the music hall of the Crazy Horse with 1/2 bottle of Veuve Cliquot rosé champagne and 1 box of 2 "macarons création Crazy by Ladurée"...
Crazy Horse Paris - affectionately known as Le Crazy - was founded in Paris in 1951 by Alain Bernardin, an avant-garde artist and insatiable admirer of women. With their memorable names (Enny Gmatic, Trauma Tease, Fasty Wizz, Mika Do and so on), the legendary Crazy Horse dancers represent the French elite of beauty and seduction. Discover a legendary and cosy venue, a favourite among international artists and celebrities, such as Beyoncé, Dita Von Teese, Christian Louboutin, David Lynch and Jean Paul Gaultier, to name but a few. Like them, go crazy about "Le Crazy"!
CRAZY LOVE WEEK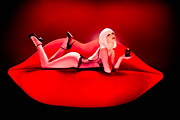 "Love is in the air!" At Crazy Horse from Monday 10th to Sunday 16th, February 2020!
On Valentine's Day, Crazy Horse innovates and presents for the first time its "Crazy Love Week": a festive and upbeat week sprinkled with nice surprises.
Each evening of this special and exclusive week, the show "Totally Crazy" will transform into an ode to love through revisited shows with a romantic playlist and an artistic wink.
It is with passion, audacity, sensuality and humor that the legendary troop of Crazy Girls, "the most beautiful girls in the world", interpret this festive show, dressed and sublimated by the subtle rays of lights, artistic signature of Crazy Horse.
The Crazy Valentine's Day offer, exclusively containing two macaroons created by Ladurée X Crazy Horse, will be available every day of the week!