DISCOVERING MONT SAINT-MICHEL
The architecture of Mont-Saint-Michel and its bay are the most popular tourist sites in Normandy. Mont Saint Michel was listed an historical monument in 1874 and the site has been named since 1979 as UNESCO World Heritage.
Mont Saint Michel was one of the most fabulous achievements of the Middle Ages. You will be amazed by the prowess of its monastic architecture seeming to emerge from the waters of the bay. You will discover during this tour the medieval city and the Abbey of Mont Saint-Michel, important place of pilgrimage in the Middle Ages.
Enjoy your visit and discover Mont Saint-Michel: admire the bay, stroll on the ramparts, and browse through the tinny shops of the village.
SEASON
No matter the season, Mont Saint Michel is an incredible place to visit.
During winter time, you will appreciate the calm and sweet scent of the cold breeze.
During summer, you will enjoy strolling and walking the bay under the summer light.
LUNCH AT MONT SAINT MICHEL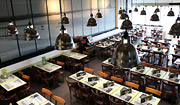 Many restaurants allow you to have lunch at your own pace and according to your desires: pizzerias, crêperies, gastronomic and traditional restaurants.
France Tourism can also organize a small lunch for you:
- MEAL BASKET (+ 12 €) : See the contents

Discover the Mont Saint-Michel

Classic excursion to Mont Saint Michel : 125€ / pers
Day trip from Paris with an experienced guide (English, French, Spanish). Excellent way to travel the northwest coast of France in a limited time.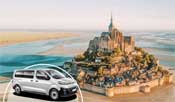 Excursion by minibus to Mont Saint Michel : 140€ / pers
Day trip with an experienced trilingual guide. You will be guaranteed to travel in an air-conditioned minibus, with the advantage of an optimised journey time to make the most of your visit.