DISCOVERING MONT SAINT-MICHEL on a Private Tour
During this day trip, we will take you to discover Mont Saint-Michel.
The architecture of Mont-Saint-Michel and its bay are the most popular tourist sites in Normandy. Mont Saint Michel was listed an historical monument in 1874 and the site has been named since 1979 as UNESCO World Heritage.
Mont Saint Michel was one of the most fabulous achievements of the middle ages. You will be amazed by the prowess of its monastic architecture seeming to emerge from the waters of the bay. You will discover during this tour the medieval city and the Abbey of Mont Saint-Michel, high place of pilgrimage in the middle ages.
Enjoy your visit and discover Mont Saint-Michel: admire the bay, stroll on the ramparts, and browse the tinny shops of the village.
SEASON
Whatever the season, Mont Saint Michel is an incredible place to visit.
During winter time, you will appreciate the calm and sweet scent of the cold breeze.
During summer, you will enjoy strolling and walking the bay under the summer light.
YOUR LUNCH AT MONT SAINT MICHEL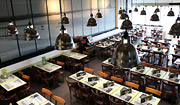 In the heart of the medieval city of Mont Saint-Michel, enjoy a delicious time around a traditional kitchen. Enjoy an exceptional view of the Bay of Mont Saint-Michel and the unparalleled spectacle of the world's greatest tides.
RESTAURANT "Terrasses de la baie" : See the menu
HISTORICAL MUSEUM VISIT WITH AUDIOGUIDE
Your Mont Saint Michel historical visit will let you discover the jails, lugubrious dungeons and Mont Saint Michel hidden cells. Shudder in front of the Middle Ages torture tools or Louis XI iron cage. Admire the beautiful old arms collection and discover the wax statues that occupied the museum. So many historical reconstructions that will captivate adults and children!
To see / to do: take a look through the XIXe century periscope, unique in Europe and discover the Bay or also, "L'enlisé dans les sables mouvants" Paul Capellani sculpture made in 1909.
CIDER AND CALVADOS TASTINGS AT "L'AUBERGE DE LA MERE POULARD"
"L'auberge de la Mère Poulard" welcomes you in the "Piano" room with a beautiful Bay view, for a cidar tasting: 3 glasses of artisanal ciders (brut, doux and rosé) and one calvados tasting. During your tasting, you will enjoy some "Mère Poulard" biscuits. After the tasting, you will be able to purchase some souvenirs, ciders, Calvados and biscuits in the Auberge shop.
Discover the Mont Saint-Michel