❤ YOU WILL ENJOY...
GIVERNY AND MONET'S HOUSE VISIT
Located at 80km of Paris, Giverny is a very charming village. Claude Monet decided to move here in order to develop his passions: painting, gardening and photography.
During the tour, you will see Monet's house restored as in the old days, the painter's workshop and stroll through the wonderful garden.
Inside Monet's house, where he lived from 1883 to 1926, you will discover:
The ground floor: the "blue lounge" (room for reading), the groceries, the workshop, the dining room with the famous collection of Japanese drawings on the wall, and the kitchen well decorated.
The first floor: the private apartments with Monet's bedroom (specific period furniture), Alice's bedroom and "toilettes". In front of the house, you will be charmed by the famous Monet's gardens which are majestic and represent one of the painter's greatest master pieces.
>> After your visit of Giverny we will procure your transfer Château de Versailles.
THE VERSAILLES PALACE VISIT
You will discover on you're the fabulous rooms of the palace:
The King's Grand Apartment, a prestigious seven-room enfilade meant to serve as a parade apartment, that is, as a venue for the sovereign's official acts. Therefore it was sumptuously decorated according to the model of former Italian palaces.
The Hall of Mirrors or "the Grande Gallerie", as it was called in the 17th century, was used daily as a place of passage, and a waiting and meeting space for the courtiers and the visiting public.
THE GARDENS OF VERSAILLES
You will have free time to stroll through the amazing gardens. Versailles is the model of the typical French garden laid out between 1661 and 1700 by le Nôtre who levelled off the land, drained it and landscaped the views, groves, canals, and flowers bed. The gardens are adorned with more than 400 marble, bronze and led statues and water fountains.
FOUNTAINS SHOW AND MUSICAL GARDENS
From April to October, the fountains come to life and you can watch the fabulous spectacle of the great waters set to baroque music. The "Grandes Eaux de Versailles" show takes place on saturdays and sundays, the "Jardins Musicaux de Versailles" takes place from Tuesday to Friday (compulsory extra charge +10.50€)
GIVERNY AT LUNCHTIME:
Our guides will be able to advise you and direct you to a large choice of restaurants.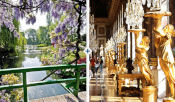 Classic Giverny + Versailles Day Trip: 109.00€ / person
Full-day excursion from Paris with an experienced guide (English, French, Spanish). An excellent way to discover two of the most famous sites near Paris: Claude Monet's house and gardens in Giverny and the Palace of Versailles.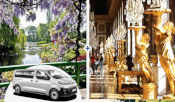 Giverny + Versailles Day Trip by Minibus: 124.00€ / person
Full-day excursion with an experienced trilingual guide. You'll be guaranteed to travel in a comfortable air-conditioned minibus with the advantage of an optimized travel time to make the most of your visit.