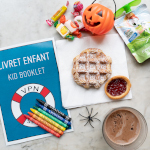 Halloween Snack Cruise
From October 21st to November 5th, embark on an enchanting adventure where every corner of the boat is imbued with the festive spirit of Halloween.
During an hour of navigation, you will be captivated by picturesque views of the city, all while savoring the delightfully eerie atmosphere of the season.
To make your experience even more delightful, every participant, young or old, will receive a special Halloween snack box. Enjoy a thoughtfully curated selection of sweet treats and themed snacks to tantalize your taste buds while immersing yourself in the magical ambiance.
Book now and get ready to embark on a bewitching journey!
A 1h cruise on the Seine, to help your children discover Paris
A moment of sharing punctuated by live comments from our guide ... historical and humorous anecdotes about Paris and its monuments
The gourmet basket to be enjoyed comfortably on board
"Souvenir" surprises as well as the "Petit Moussaillon" diploma offered at the end of the cruise
Departure from the heart of Paris, on the Ile de la Cité
GET TO EXPERIENCE ...
Want to go out with the children?
How about a Snack Cruise on the Seine?
Come and experience an original, magical and exceptional moment with your family!
The cruise, ideal for a family snack, will introduce you to Paris from the water.
The guide and the captain will welcome you on board our boat. Your gourmet basket, consisting of a drink, an assortment of cookies, a lollipop and surprises, will be completed for the children with the cruise booklet and will be given to you by our host or hostess before you board.
Your baskets are to be collected at the bar counter before boarding.
You will sit comfortably warm on our boat, indoors or on the terrace for the more adventurous and enjoy your afternoon tea.
Departing from Pont Neuf, the oldest bridge in Paris, you will sail to meet the most beautiful monuments of the capital: the Louvre Museum, the Eiffel Tower, the Orsay Museum, Notre-Dame de Paris and the Conciergerie will parade before your eyes for your greatest pleasure and that of your children.
For an hour, the guide will tell you the big and small stories that make the beauty of Paris. The diploma of the "Petit Moussaillon" will be offered to each child at the end of the cruise.