France tourisme propose you to visit the Louvre Museum with a guide lecturer at your entire disposal. Your guide will comment for you the masterpieces of the museum : La Joconde, La Venus de Milo, La Victoire de Samothrace,... and any other work you wish.
YOUR PROGRAM :
Your private visit of the Louvre Museum
The Louvre presents works of Western art from the Middle Ages to 1848, ancient civilizations that preceded and influenced, and Islam's arts.
What you will discover first, is the Louvre's incredible architecture: one of the largest royal palaces in the world, expanded and embellished since the fifteenth century until today. The transformations carried out from 1984, with the new pyramid and the public reception areas, actually reveal the Louvre as the largest museum in the world.
Then your private guide will take you to priceless masterpieces that made the Louvre its tremendous fame. During your two-hour session, he will make custom comments about iconic art works. He will adapt the tour to meet your wishes. He will guide you through the huge museum to contemplate the most interesting works at your own pace.
Some of the Louvre masterpieces :
Mona Lisa or the Virgin of the Rocks by Leonard da Vinci, the Venus de Milo, the Winged Victory of Samothrace, the Code of Hammurabi, Liberty leading the People by Delacroix, the Wedding at Cana by Veronese, the Man with a Glove by Titien, the Raft of the Medusa by Gericault, the Seated Scribe, the Dying Slave by Michelangelo, the Lacemaker by Vermeer, the Madonna of Chancellor Rolin by Jan Van Eyck, Baldassare Castiglione by Raphael, the Fortune Teller by Caravaggio, Gilles or the Embarkation for Cythera by Watteau, Bathsheba at her bath by Rembrandt, Grande Odalisque by Ingres, Eliezer and Rebecca by Poussin, etc...
Visit on your own until closure (6pm or, 9:30pm on friday) after your private visit
Child-friendly Tour Available (Free option to be selected when booking)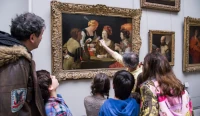 We have designed a private and guided tour of the Louvre, specifically tailored for families with children. You will visit the Louvre Museum with a tour guide at your complete disposal. Your guide will adapt to the age of your children and enrich their comments with historical and playful anecdotes. During your two-hour visit, you will easily navigate the immense Louvre palace and admire the most interesting works at your own pace.
---
Public (full price) only acces ticket: 17 euros
Free entry for: People under 18 / Visitors from 18 to 25 years old residents of the European Union / Visitors with the Louvre card / Visitors with professional cards / Beneficiaries of social minima