DISCOVERING THE "CHÂTEAUX DE LA LOIRE"
Three sublime castles are available to you on this excursion:
CHENONCEAU CASTLE with audioguides: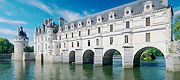 Model of the Renaissance traditions, the Chenonceau Castle is an architectural masterpiece. Known as the "ladies castle", five women played an important part in the interior decoration, making Chenonceau one of the most romantic castles in the Loire valley. Our guide will introduce you to the history of the castle, then let you stroll at your leisure through the sumptuous gardens.
CHAMBORD CASTLE with audioguides: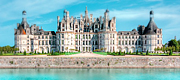 The Chambord Castle is the private property of the Vibraye family. During this visit, you will admire its wonderful 17th century furniture. Before leaving, take a walk through the gardens and discover the kennels. The castle is also well known for its inspirational setting on Hergé's famous Moulinsart castle in the Tintin comic book.
CHEVERNY CASTLE: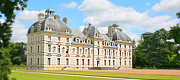 Considered as the largest and most majestic castle of the Loire valley, Chambord Castle was commissioned as a hunting lodge by François I. However, he only spent 42 days of his 32-year reign in this royal residence. The 365 chimneys, 440 rooms, 14 staircases and 800 turrets and capitals give an insight of the magnificent period architecture. The main attraction remains the intricate "double revolution" staircase designed by Leonardo de Vinci.
YOUR LUNCH AT CHENONCEAU
Located within the Chenonceau Castle, this restaurant offers a sumptuous decor. You will enjoy this place for your lunch thanks to its lovely atmosphere, at the bottom of the green garden set up by Bernard Palissy, its terrace and flowers during the sunny days...
L'Orangerie à Chenonceau - See Menu
This restaurant will be replaced by another during closure
Discover the Loire Castles