500,000 Tulips in Giant Ribbons: The Must-See Spring Spectacle at Cheverny Castle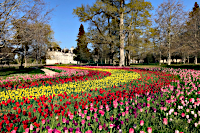 Every spring, for nine years, the tulip has reigned in three of the gardens at Cheverny Castle.
This year, the number of bulbs doubles: over 500,000 bulbs were planted in the autumn, notably to create not one, but two immense ribbons of tulips. A guaranteed wonder!
Imagine this spectacular ribbon: 500,000 tulips on 2 ribbons, 250 meters long and 12 meters wide... A range of reds, pinks, yellows, oranges, mauves, and whites. A true natural work of art, which ends in the water feature of the castle's park.
Depending on weather conditions, this magnificent spectacle can be enjoyed from late March to mid-April!
Celebrate Easter at the Château de Cheverny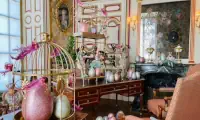 During the Easter holidays, come and discover the domain specially decorated for the occasion.
In the castle, the table in the large dining room has a fantastic Easter decor, but you will also be amazed by the other rooms where rabbits, hens and eggs take possession of the premises.
Come and admire these decorations from April 1 until May 8, 2023!
DISCOVERING THE "CHATEAUX DE LA LOIRE"
Visit the 3 breath-taking castles in this full day trip:
Departure from our Louvre agency in the heart of Paris at 7.15 am followed by our driver guide.
LE CHÂTEAU DE CHENONCEAU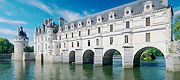 Model of the Renaissance traditions, the Chenonceau Castle is an architectural masterpiece. Known as the "ladies castle", five women played an important part in the interior decoration, making Chenonceau one of the most romantic castle in the Loire valley. Our guide will introduce you to the history of the castle, then let you stroll at your leisure through the sumptuous gardens.
Join your guide in the gardens of the castle before lunch.
LOIRE CASTLES AT LUNCHTIME
Our guides will be able to advise you and direct you to a large choice of restaurants.
:: Transfer to Château de Cheverny ...
LE CHÂTEAU DE CHEVERNY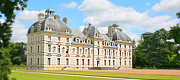 The Cheverny Castle is the private property of the Vibraye family. During this visit, you will admire its wonderful 17th century furniture. Before leaving, take a walk through the gardens and discover the kennels. The castle is also well known for its inspirational setting on Hergé's famous Moulinsart castle in the Tintin comic book.
You will finish your day with the visit of the Castle of Chambord
LE CHÂTEAU DE CHAMBORD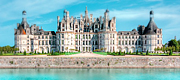 Considered as the largest and most majestic castle of the Loire valley, Chambord Castle was commissioned as a hunting lodge by François I. However, he only spent 42 days of his 32-year reign in this royal residence. The 365 chimneys, 440 rooms, 14 staircases and 800 turrets and capitals give an insight of the magnificent period architecture. The main attraction remains the intricate "double revolution" staircase designed by Leonardo de Vinci.
Return to our Louvre Agency around 7:15pm.
Discover the Loire Castles