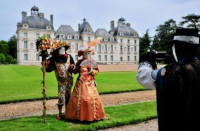 The Venetian Carnival at Château de Cheverny on 30/09 and 01/10
The Venetian weekend at Château de Cheverny on 30/09 and 01/10 is an invitation to travel.
You will be transported to the magical atmosphere of the Venice Carnival where you can encounter a hundred Venetians strolling through the park and the castle in costume.
DISCOVERING THE "CHATEAUX DE LA LOIRE"
Visit the 3 breath-taking castles in this full day trip:
Departure from our Louvre agency in the heart of Paris at 7.15 am followed by our driver guide.
LE CHÂTEAU DE CHENONCEAU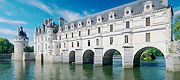 Model of the Renaissance traditions, the Chenonceau Castle is an architectural masterpiece. Known as the "ladies castle", five women played an important part in the interior decoration, making Chenonceau one of the most romantic castle in the Loire valley. Our guide will introduce you to the history of the castle, then let you stroll at your leisure through the sumptuous gardens.
Join your guide in the gardens of the castle before lunch.
LOIRE CASTLES AT LUNCHTIME
Our guides will be able to advise you and direct you to a large choice of restaurants.
:: Transfer to Château de Cheverny ...
LE CHÂTEAU DE CHEVERNY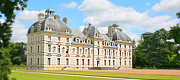 The Cheverny Castle is the private property of the Vibraye family. During this visit, you will admire its wonderful 17th century furniture. Before leaving, take a walk through the gardens and discover the kennels. The castle is also well known for its inspirational setting on Hergé's famous Moulinsart castle in the Tintin comic book.
You will finish your day with the visit of the Castle of Chambord
LE CHÂTEAU DE CHAMBORD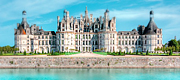 Considered as the largest and most majestic castle of the Loire valley, Chambord Castle was commissioned as a hunting lodge by François I. However, he only spent 42 days of his 32-year reign in this royal residence. The 365 chimneys, 440 rooms, 14 staircases and 800 turrets and capitals give an insight of the magnificent period architecture. The main attraction remains the intricate "double revolution" staircase designed by Leonardo de Vinci.
Return to our Louvre Agency around 7:15pm.
Discover the Loire Castles