DISCOVERING THE "CHÂTEAUX DE LA LOIRE" AND LEONARD DA VINCI
Two sublime castles and the Clos de Lucé, last home of Leonardo De Vinci:
:: Departure from our Louvre agency in the heart of Paris at 7.15 am accompanied by our driver guide.
AUDIOGUIDED VISIT OF CHENONCEAU CASTLE: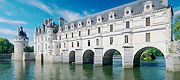 Model of the Renaissance traditions, the Chenonceau Castle is an architectural masterpiece. Known as the "Château des Dames", five women played a part to the interior decoration, making Chenonceau one of the most romantic castle in the Loire valley.
Our guide will introduce you to the history of the castle, then let you stroll at your leisure through the sumptuous gardens.
AMBOISE AT LUNCH TIME: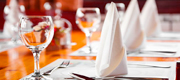 Your driver guide will accompany you to Amboise and suggest different lunch possibilities to let you lunch quickly before your visit of Clos Lucé castle. You'll be able to see from the city center the magnificent Amboise castle and Saint Hubert Chapel where Leonard De Vinci was buried.
VISIT OF CLOS LUCE CASTLE AND LEONARD DE VINCI PARK: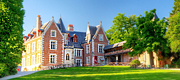 As you walk, you meet Leonardo the engineer, Leonardo the visionary and Leonardo the painter and architect. The Leonardo da Vinci Park is a unique journey among the genius's pieces of work. At Château du Clos Lucé,, dive into French History and discover Leonardo da Vinci's room, his workshop restored in the atmosphere of the typical Bottegas of the Renaissance, the room of Marguerite de Navarre, Francis I's older sister Anne de Bretagne's oratory and many other treasures.
AUDIOGUIDED VISIT OF CHAMBORD CASTLE: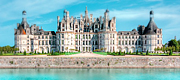 Considered as the largest and most majestic castle of the Loire valley, Chambord Castle was commissioned as a hunting lodge by François I. However, he only spent 42 days of his 32-year reign in this royal residence. The 365 chimneys, 440 rooms, 14 staircases and 800 turrets and capitals give an insight of the magnificent period architecture. The main attraction remains the intricate "double revolution" staircase designed by Leonardo de Vinci.
WINE TASTING AT CHAMBORD: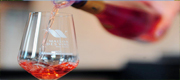 After discovering the Loire castles, join us for a wine tasting at "Biscuiterie de Chambord". Enjoy a gourmet moment and discover some of the Loire Valley such as Cheverny, Vouvray, Touraine and Sancerre wines produced by local wine-makers. During this tasting, you will also discover an artisanal biscuits shop and its history. At the end of your visit, you can buy some wines and biscuits as souvenirs.
:: Return to our Louvre Agency around 8:15pm.
Discover the Loire Castles