REIMS, CHAMPAGNE CAPITAL AND CEREMONIAL CITY
Capital of Champagne region, Reims is one of the most important historical cities of France and is well known for its famous and prestigious wine: Champagne.
Reims Cathedral:
Discover the Rheims Cathedral, the city's most beautiful monument and one of the foremost achievements of the 13th century, Gothic art. This masterpiece is the place where the kings of France were crowned.
During your free time, we recommend you visit:
Monuments such as the "Gallo-roman ruins, the "Place du Forum", "Place Royale", "Porte de Mars", and obviously Maison Fossier, the most famous artisanal sweets and candies and well known for its "Biscuits Roses" from Reims.
CELLARS VISIT AND CHAMPAGNE TASTING

Cellars visit and Champagne tasting:
Proud of their traditions, Champagne producers will explain and share their knowledge on Champagne production, making and bottling. You will visit some incredible and old wine cellars and enjoy a delicious Champagne tasting.
According openings and availabilities, you will visit the cellars of Mumm or Pommery, two of the most famous houses of Champagne.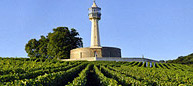 Visit of the Lighthouse of Verzenay and Champagne tasting:
From the top of this original tower admire the wonderful overview on the vineyards. Discover the champagne vineyards and enjoy a great Champagne tasting.
HAUTVILLERS VILLAGE
On the way back to Paris, we will make a stop in the charming village of Hautvillers, the tinny village place where the monk Dom Pérignon, discovered, during the 18th century, the method Champagne making.
REIMS AT LUNCHTIME (Option)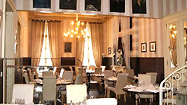 Reims city offers many restaurants to enable you to have lunch at your own pace and according to your needs, in particular near by the wonderful "Place d'Erlon".
If you wish, we can also book for you, as an option, our France Tourisme menu at the restaurant "Côté Cuisine", which proposes a large variety of French gastronomical menus -
*Alcohol abuse is dangerous for your health and must be taken with moderation.