A one-of-a-kind evening on the Champs Elysées!
Have dinner in a famous brasserie located on the Champs Elysées and attend the 9:00pm Paris Merveilles show at the Lido de Paris at an unbeatable price!
YOUR DINNER AT THE RESTAURANT L'ALSACE :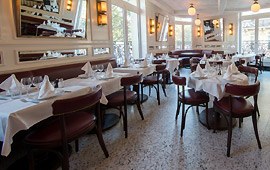 France Tourisme offers you a unique menu in this restaurant conveniently located on the Champs Elysées, just a few steps away from the Lido.
The Alsace restaurant, a famous brasserie that was established on the Champs Elysées in 1968, welcomes you in a typical Parisian brasserie atmosphere with its stunning view on the Champs Elysées.
In the kitchen, the Alsace prepares Alsatian specialties, such as the famous "choucroute" (sauerkraut). You will be able to taste the best dishes that the Alsace region has left to the French gastronomy.
A privileged moment to start your evening on the Champs Elysées!
>> After dinner, make your way to the legendary Lido de Paris cabaret.
LIDO DE PARIS SHOW :
Lido de Paris show from 9:00pm to 11:00pm.
A glass of champagne will be served during the show.
A mythical establishment on the Champs-Elysées, The Lido de Paris has been the incarnation of Parisian nights since 1946.
Now, the Lido presents its new revue "Paris Merveilles", designed and directed by Franco Dragone, an international figure in live events, whose work has already enthralled over 85 million people all around the world.
Inspired by the magic of Paris, this new show keeps the core of the Lido revues and adds the daring of new designers: Dazzling Bluebell Girls and amazing stage design. With a series of breathtaking sets including one on the famous real ice rink, sumptuous costumes and a deluge of strass, feathers and sequins, enchanting colors...
The spectators leave for an awe-inspiring voyage, with a sparkle in their eyes like never before.
L... as in Luminous, I... as in Innovative, D... as in Delicious, O... as in Oh what Magic !
Discover the Lido de Paris